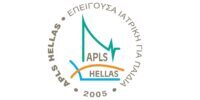 Advanced Paediatric Life Support
Framework - Historical background
The APLS programme, which was first organized in the United Kingdom by the Advanced Life Support Group (ALSG, Manchester) in 1992, was created by a team of experts in paediatrics, paediatric surgery, anesthesiology and emergency medicine.
To this end, the ALSG Working Group reviews systematically not only the entire international literature and research in the fields relating to curriculum but also the trends regarding the effective training of adults/professionals.
In Greece, APLS was first introduced in September 2001 in Athens, where the first 23 accredited Child Rescuers/APLS Providers were trained. APLS Hellas has since trained approximately 45 APLS Instructors who have in turn participated in the organization of at least 70 seminars with 2,500 graduate APLS providers, doctors and nurses. Moreover, it should be noted that APLS certification is a prerequisite in order for doctors to apply for the position of a trainee or specialist at any paediatric hospital in the United Kingdom or the United States.
The APLS programme, as well as a series of education programmes on trauma management, is implemented in accordance with Law 4655/2020 (Government Gazette, Series I, No 16/31-1-2020), with the exclusive financial support of SNF, over a five-year pilot phase. The cooperating bodies are the National and Kapodistrian University of Athens (UoA), Health Units SA (AEMY SA), the Ministry of Health and the civil non-profit organization Regeneration & Progress (R&P), which has been designated responsible for the financial management and technical supervision of these programmes. After the lapse of the five-year period, financial support continues to be provided through resources of the Ministry of Health.
Seminar-specific information
The subsidized APLS seminar is targeted at sixth year medical students who have passed all mandatory subjects of previous years, at medical students pending graduation who have no more than three mandatory sixth year subjects left to pass, as well as at graduates in medicine on condition that less than one year has elapsed from their graduation and that they have not started working as doctors. All students must have completed undergraduate paediatric education.
APLS has been designed to train participants in responding to the most common life-threatening paediatric conditions. In accordance with modern education methods, its overall goal is to retrain medical aid providers with regard to their emotional behaviour in order to enable them to deal with particularly stressful situations with absolute composure and effectiveness. With a view to achieving this goal, the APLS seminar, emphasizing on interaction, teaches the method and necessary skills for assessment, resuscitation and stabilization of the severely suffering child. Moreover, effective cooperation is pursued, through interactive simulations, within small groups managing such incidents.
The seminar focuses on:
a structured approach to the severely suffering child;
consolidation of an algorithm for clinical evaluation and for identification of life-threatening paediatric conditions;
the child's initial resuscitation;
definitive treatment of the disease.
The seminar includes:
lectures;
practical skills training stations;
participation in virtual clinical incident scenarios in various roles (team leader, team member, receiving team, observer/critique).
Approximately one month before the start of the seminar, candidates receive the APLS manual, which covers all the theoretical knowledge required for attending it. Furthermore, they are provided with a special access code for an online 14-hour education platform, attendance of which, as well as completion of a comprehension test prior to the seminar, is mandatory.
Certification from the ALSG has a duration of four years. After the lapse of the four-year period, APLS providers who wish to be recertified must, within six months, take part either in an APLS recertification course or in a regular APLS seminar as recertifying candidates.
Requirements - Necessary supporting documents
For students: Certificate of completion of studies or transcript of records and solemn declaration stating the following:
"I am a sixth year student who has passed all mandatory subjects of previous years and has completed undergraduate paediatric education" or
"I am a student pending graduation who has passed all mandatory subjects of previous years, has completed undergraduate paediatric education and has no more than three mandatory sixth year subjects left to pass".

For graduates: Copy of degree and completed solemn declaration stating that they do not perform paid work as doctors.
Educational seminars
The following are the scheduled training seminars. Please select a seminar to go to the relevant page with detailed information about this seminar.